Festivals are the best because you can't control anything, and for a control freak like me, that's a wonderful experience." - Jack Garratt
Apparently, 32 million people attend music festivals in the US alone each year. And, when you consider the absolute wealth of festivals available these days, it's not surprising.
Before we delve any deeper into the subject, at this point, we'd like to state that this is the last time the term 'wealth' will be used here - because we're going to tell you how to do music festivals on a shoestring budget.
After all, why should you miss out on the fun just because you're broke?
You shouldn't, and you needn't. So we won't let you, so there.
Without further ado, here's how to attend your favorite music festivals like a boss with barely any money in the bank. Enjoy.
Volunteer
While this may not be the most desirable option if you're the very embodiment of a hardcore party animal (although you will be able to let loose in your free time), attending music festivals as a volunteer will not only offer you free access to the event for the whole weekend, but in most cases you'll get to enjoy VIP camping, free meals and priority parking.
Usually, you will steward, litter-pick or lug stuff around for a few hours a day, then the entire festival playground is yours to enjoy (but keep in mind, picking up litter isn't much fun with a hangover). A venture that's certainly worth considering if you're on a shoestring.
Never forget that the early bird always catches the worm.
That said, if volunteering is just too much work, saving money on your ticket by searching for those early bird deals is your next best option.
To successfully snag yourself early bird tickets, curate a long list of the festivals you want to attend, note down dates and set yourself an overall ticket budget. Then keep your eyes peeled, your ears to the ground and keep your finger firmly planted on the buzzer (or phone, or keyboard). Latecomers always pay the price - so don't be one of them!
Carpool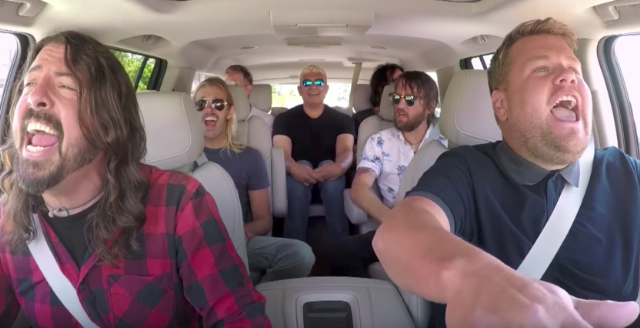 On top of the colossal cost of your festival ticket and camping pass, you have to pay for parking - more money spent before you've even pitched your tent. But, if you source a friend with a big car, you can carpool. By doing so, you'll be able to split the parking cost, share fuel expenses and enjoy a legendary road trip to and from the festival with a handful of your closest music compadres.
Another win for the shoestring festival-goer.
Stock up on supplies
As liberal and fancy-free as today's music festivals are, they don't quite compare to the original Woodstock and Isle of Wight Festivals - which means that due to capitalism, food and drinks come at a pretty price. So stock up, and stock up good.
Of course, you'll buy stuff when you're there, but by going to a budget supermarket with your carpool buddies and grabbing hygiene supplies, food, water and if you're that way inclined - an ample amount of booze - before heading to the festival, you'll literally save yourself hundreds of dollars over the weekend. Plus, some of the most legendary stuff happens by the tent, so even if you do slip back to your camp for a couple of beers, you certainly won't miss out on any action.
Scan the vendors
On arrival - inside the main festival site, that is - go around to every food vendor during a quiet spell and source those that offer the biggest portions for the best price, according to your taste. Doing so will ensure that you enjoy a satisfying meal that will sustain you for longer - and it could save you up to $30 dollars (on estimate) over the course of the weekend.
Bring your own phone charger
Whatever your views are on excessive smartphone usage, phones are important at festivals for finding lost pals or in case there is an emergency of any kind.
But, rather than leaving yourself at the mercy of costly novelty charging points (that are way overpriced), grab yourself a portable charger and juice it up before leaving for the festival. Or, if you don't even want to fork out for one of those, use a charging lead that's compatible with the car you came in and charge your phone there. Doing this could save you up to 10 bucks - and when you're on a shoestring, every penny counts.
"Festivals are great because you get to just walk around the corner and see a new band that you've heard but not had the chance to check out." - Johnny Marr
So, there you have it: our insider tips on how to do musical festivals on a shoestring budget. Without a doubt, the music festival is one of life's most exciting, liberating, rewarding and downright crazy rights of passage - and no one should miss out regardless of how many pennies are in your bank account.
Shoestring warrior - we salute you - and if you do have a few spare pennies to spend on your outfit, we have a wonderfully eclectic range of festival wear to choose from - enjoy.
Suggested Posts: 
Best Goth Festivals Around The World